Teaching
Berit Strong has performed solo guitar and chamber music throughout New England and Europe for some 30 years. One of her biggest accomplishments in 2016 was performing the lead guitar part in the Boston University Opera production of "Angels in America" by the modern Hungarian composer Peter Eotvoes. She also recently offered a solo concert featuring the legacy and repertoire of the great Andres Segovia on Indian Hill's "Bach's Lunch" Concert Series. In 1999, she was a featured guest soloist with The Orchestra of Indian Hill. Berit has performed in numerous masterclasses with Oscar Ghiglia, and strives to continue his legacy as a teacher of dynamic interpretations and a holistic injury prevention approach towards the guitar. From 1986-1988 she studied in Milan, Italy, with musicologist and conservatory professor Ruggero Chiesa, who helped her gain a deeper understanding of technique and musical styles. She has also been a guest lecturer at Boston Conservatory, Hartt School of Music, and Tufts University.

Berit brings an unusual depth and set of skills to her teaching of the classical guitar at Indian Hill for the past 20 years. Having the great opportunity to study with some of America's and Italy's finest guitarists she custom-tailors her studio to offer age-appropriate materials and injury prevention techniques to this complex instrument. Advanced students, professionals, and other guitar teachers have consulted or studied privately with her, and some of her students have won competitions and have attended top notch conservatories. Berit's most recent accomplishment was to become certified in the Suzuki Guitar Method for young children, studying up to Book 2 with the prominent Suzuki Teacher Trainer David Madsen. The response from children ages 4 and up and parents has been enthusiastic and committed.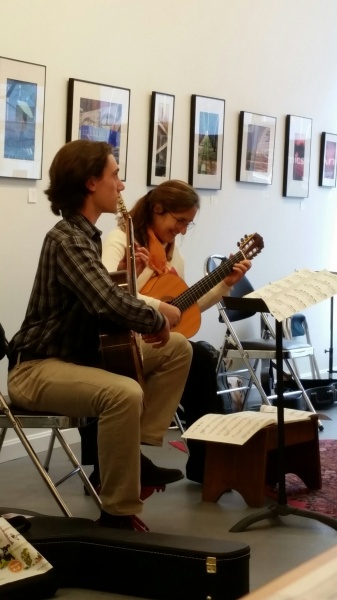 Guitar and Music Fundamentals
Berit offers all of her guitar students a comprehensive music lesson curriculum that gives each student an opportunity to acquire a full understanding of music fundamentals along with the developing their guitar playing to their maximum potential.


Lyrical tone production and a beautiful legato playing style are an important part of Berit's acoustic guitar instruction. Right hand technique, so often overlooked by guitarists, is essential to good guitar tone.


Chords in first position as well as various strumming techniques are also part of Berit's instruction for beginning to intermediate guitar students. Berit will sometimes use the Royal Conservatory of Music development program to help bring her young students up to a new level.


Berit is also Suzuki certified. She currently teaches students using the Suzuki guitar method at the Indian Hill Music Center in Littleton MA as well as in her home studio in Acton MA. She also has several students who have completed the Royal Conservatory of Music Development program level exams.
Music Reading, Ear Training and Guitar Duets
Ear training is an important part of any quality music instruction. Berit's students learn to hear melodies, chords and rhythms and how they work together to create great music. Students are also encouraged to learn to get away from the written music and learn to play by ear.


Berit believes the best guitar teachers take the time to play along with her students.  [GuitarLesson Maynard MA] Berit plays along with students in their lesson offering practical examples of each musical concept being studied. Her guitar students are able to hear first hand the beautiful guitar sound they are aiming to achieve.


Guitar duets are an important part of the Berit's teaching as well. Berit's students enjoy playing duets in their guitar lessons, they're fun! Guitar duets also help with music reading, including rhythmic proficiency, as well as improve the student's ability to play along with other instrumentalists.


Folk and Rock Guitar Lessons
Berit also offers folk guitar lessons as well as beginning rock guitar lessons for younger students. Playing the blues, pentatonic scales, barre chords, swing rhythm and holding a pick are all part of Berit's folk guitar and rock guitar teaching. The same music fundamentals, scales, chords, rhythms, etc all apply equally to folk and rock guitar as they do to classical guitar playing.


Berit is able to use her background in precision classical guitar playing to show folk and rock guitarists finger picking and strumming techniques. All of these guitar fundamentals help guitarists to clean up their electric guitar style and enable them to express their musical ideas more clearly on the guitar.


Berit's college age guitar students who played rock for years are also thrilled to learn some classical pieces too. They find they are not only enjoyable to play on their own but also help improve their folk and rock guitar playing as well.

Advanced Guitar Students
Advanced guitar students will appreciate Berit's ability to focus on elements of classical guitar playing that is of special interest to them. These often include advanced right and left hand technique. Berit encourages her guitar students to feel the music in their hands.


Flamenco style guitar playing is a personal favorite for Berit. She has had enormous success teaching this fun, expressive style of guitar playing to her advanced students. She demonstrates this technique on several tracks of herrecent CD.


Precision playing, being able to precisely interpret a composer's vision on the guitar, is another aspect of Berit's curriculum for advancing guitar students. Berit is able to help her advanced students discover and interpret the many great classical and contemporary pieces written for acoustic guitar.

Berit Makes Learning to Play The Guitar Fun
All guitar lessons are private lessons and are offered to adults, children, beginning, intermediate and advanced guitarists.
Guitar lessons may be scheduled on a regular weekly basis or "one at a time" guitar lessons are available. These one at a time lessons are especially good for guitar students who live further away from Berit's music studios or for busy adult guitar students who are unable to commit to regularly scheduled weekly guitar lessons.